As a mother daughter duo, we began our journey opening our first skin care clinic 2017, offering self-regenerating treatments for lifting and tightening the skin. It's safe to say we have great passion for making people look and feel the best version of themselves!
After researching more into what our clients wanted out of their skincare and deciding on our path of natural products, we decided to launch our own brand of  Salon Grade uncomplicated skin care. We work closely with the chemist to create formulations that benefit the skin, however keeping the range uncomplicated so that they are easily used.
We are of Italian  heritage and believe what you put into your body is just as important as what you put on the outside. Family is important to us and as a mother daughter duo, we have the generational gap covered.
We don't make any claims other than what our customer are saying, the range is Salon grade intensified, to give a premium quality product at affordable prices.
With love and care,
Netta & Hayley
We keep our promises

We oppose any form of animal testing at L'abu. For that reason, we ensure our products are never tested on anything other than humans.

Our botanical ingredients are vegan-approved and have no association with any organisation that supports or practises animal testing.

We only put the best into our products, so parabens, sulphates & silicones are quite simply a no-no. Your skin is better off without them.

All of our products are carefully mixed to clinic-grade standard, using ingredients that are sourced within the UK from our approved suppliers.

Nothing but the best will do for L'abu. We source the highest-quality ingredients to ensure your skin gets the luxury treatment it deserves.
The L'abu Blog
At L'abu, we go the extra mile to ensure your skin is the best it can be. From the clinic treatment room to the pros in the know, we're here to share our tips and tricks to get the best out of your skin.
Industry News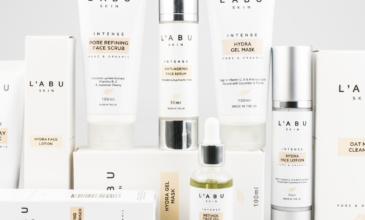 Press Coverage
12th October 2020
October Beauty Buys... Salon-grade, vegan and organic, L'abu Skin is an exciting new skincare brand from a mother and daughter duo with a rich Italian heritage!